Sports therapy after injuries and surgeries – fitness up to the highest age
As a graduate sports scientist, I have been caring for people after operations, with chronic complaints, disabilities, multimorbidity but also people at the highest age who are still amazingly fit for over 10 years. 
All of them want to be or remain fully fit again as quickly as possible and to be able to use their body permanently without pain. Here, the psyche as well as the right nutrition also play an important role in the recovery process.
I am looking for a professional to help me get back to proper fitness and pain free after an injury.
In holistic sports therapy after accidents, operations and injuries, it is particularly important to start early enough and then not to exceed the exact scope of training and movement possibilities, but to steadily expand them. The ideal supply of all essential nutrients as well as the right inner alignment can then also help to quickly advance the healing process.
Are you ready to get as completely healthy again as possible? Then it's best to make an appointment right now or book a free initial consultation!
I want to stay fit and mobile as long as I can. Despite my limitations, I want to take care of myself and participate in life with joy.
More and more men and women want to be able to care for themselves throughout their lives and remain mobile enough to live in their own homes and also not lose the joy of life. This is exactly where personal training for men and women comes in and delivers a customized training concept that is not geared towards peak performance, but rather towards well-being and health into old age.
Do you also want to stay fit and mobile and feel really good in your body? Then it's best to make an appointment right now or book a free initial consultation!
Sports Therapy – Personal Training
Sports Therapy – Personal TrainingThe goal of sports therapy is to restore the patient's former performance as quickly as possible, despite pain following injury or surgery. Manual therapy approaches, orthomolecular therapy and personal training are used for this purpose.
Personal training is not only something for actors, millionaires and competitive athletes, but probably the most goal-oriented and injury-free way to keep your body healthy, agile and fit.
The practice for holistic medicine specializes in men and women of advanced age, people with disabilities and in sports therapy after injuries/surgeries.
Vital and metabolic analysis
With the normal blood test, you get a few values that are only relevant if they are outside the reference range. In the vital and metabolic analysis, more than 50 parameters are examined and related to each other in order to record and assess the current metabolic process in its entirety.
In addition, targeted examinations of the hormones in the blood and saliva as well as the microbiome in the stool can provide further indications of diseases and their causes!
Based on this, the therapy with orthomolecular, homeopathic and phytotherapeutic medicine is carried out.
Immune system test setup
The Immune System Test (IST) according to Dr. Ingrid Fonk is a structured and empirically proven further development of electro-acupuncture (-diagnostics) according to Dr. Reinhard Voll. With the help of the meridians and Voll's vessels on hands and feet, conclusions can be drawn about bacterial, viral, parasitic and mycotic stresses, as well as dental foci and dental material compatibility.
This method is a very interesting naturopathic alternative concept that has proven itself in my practice. However, there is no scientific recognition of the method through the presentation of valid scientific studies. Therefore, I always verify the results with the help of valid procedures from evidence-based medicine.
After completion of the diagnosis, a targeted therapy with homeopathic individual remedies and nosodes follows. Phytotherapeutic, spagyric and allopathic medicines as well as Schuessler salts are also used.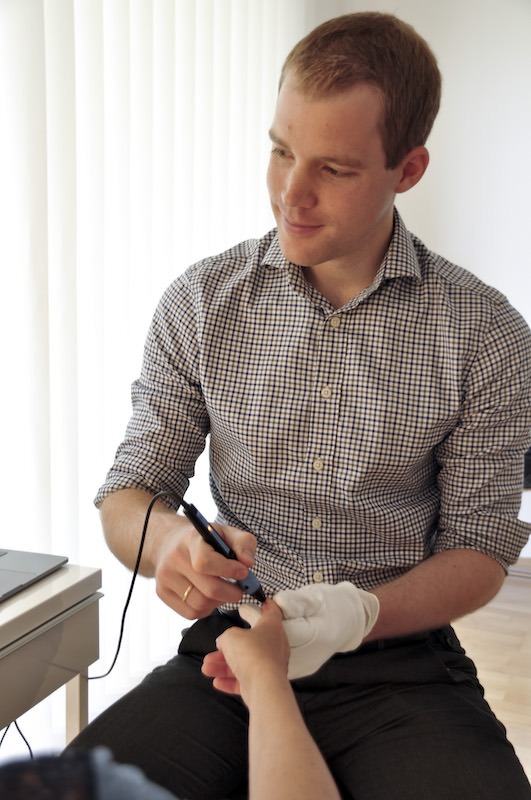 What is the general course of therapy?
At the beginning there is a comprehensive anamnesis and cause diagnosis, which should make it possible to identify the cause of your complaints.
A therapy plan is then drawn up, providing information about the expected costs, the frequency and duration of therapy, and an overview of which methods will be used.
Now the therapy takes place at the agreed appointments. These depend in their duration and frequency on the method and your complaints.
With regularly agreed interim controls and a final diagnosis, we strive to ensure the success of the therapy.
The treatment methods described here and on further pages originate from empirical medicine. The majority of these established, medical therapy methods have not yet been sufficiently scientifically validated according to the principles of evidence-based medicine (orthodox medicine). In particular, randomized, controlled studies or comprehensive meta-analyses do not yet exist. A success of the empirical medical therapy forms cannot be guaranteed in every treatment case.