Immune System Test Setup / Electroacupuncture diagnostics
The immune system test setup (IST) according to Dr. I. Fonk is a further development of the classic electro-acupuncture diagnostics according to Dr. R. Full. The diagnostic methodology is suitable for finding all possible disruptive factors that are currently burdening the immune system. Their goal is to find out the causes of the disease, even when other, conventional diagnostic methods have not delivered any results. This is followed by treatment with suitable nosodes and other drugs.
When is the IST diagnosis used?
Many diagnostic instruments, which are up to date according to medical standards, cannot always discover all causes of diseases. This can lead to illnesses either not being treated in time or the patient being put in the "psycho" corner. With the help of the IST diagnostic methodology, connections and triggers can be determined that otherwise often remain undetected for a long time. In this way, stress and interference fields of both an acute and chronic nature and their consequences on the body and health can be recognized at an early stage.
Diagnostics with the immune systemic test arrangement can help with these symptoms and stress patterns:
Skin diseases
Allergies
Chronic gastrointestinal diseases
Liver diseases
Kidney and pancreatic diseases
Autoimmune diseases
Detecting parasites
Detecting viral loads
Detecting bacterial loads
Detecting heavy metal pollution
Fibromyalgia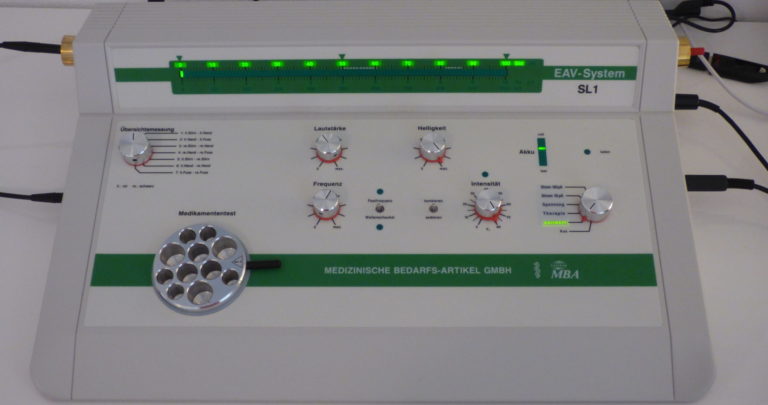 You would like to get advice?
What are nutrition-based complaints?
The consequences of an unfavorable diet can be far-reaching and of different nature. From joint pain to extreme fatigue, many problems and ailments can be traced back to diet. Especially in the case of chronic health problems, nutrition should always be considered as an important pillar. Typical complaints, which are usually related to diet, are, for example, digestive problems such as diarrhea or constipation, abdominal pain, nausea, flatulence, but also food intolerance, chronic inflammation, concentration problems and tiredness. In addition, a miscolonization of the digestive tract with certain bacteria or fungi as well as parasites or a general imbalance in the intestinal flora can lead to various complaints, or arise from complaints that have remained unrecognized for a long time. Then it is important to treat in the right order.
How does a session of nutritional therapy work?
During a general initial meeting, we first consider which different measures are possible. Because not every patient requires all analyzes or therapeutic measures. Therefore, we first discuss general complaints and/or suitable preventive measures. Depending on the result, a plan will then be drawn up for you with case-specific analyzes and applications and coordinated with any medication that may be necessary.
Why should you get nutritional advice?
Nutritional advice is particularly useful with regard to the course of acute and chronic illnesses and complaints, because nutrition is an important influencing factor in the treatment of the corresponding symptoms and their causes. But if you want to improve your quality of life in general or want to reduce your risk of getting sick, nutritional advice is also recommended.
The treatment methods described here and on further pages originate from empirical medicine. The majority of these established, medical therapy methods have not yet been sufficiently scientifically validated according to the principles of evidence-based medicine (orthodox medicine). In particular, randomized, controlled studies or comprehensive meta-analyses do not yet exist. A success of the empirical medical therapy forms cannot be guaranteed in every treatment case.